Nintendo 3DS Hands-On Impressions & Reactions
When I first got my hands on the Nintendo 3DS at this year's E3, I immediately began writing a post about how this new device would change the handheld market and change people's perceptions about 3D technology. Even after hearing and reading all the positive impressions from others in attendance, I still wasn't prepared for the technology to actually work as well as it did. The top screen was beautiful without the 3D effect but a small adjustment on the slider and the image popped off the screen – much like recent 3D movies. That it could do this without the need for any glasses was incredible. That the graphics looked similar to, if not better than Wii games was also amazing.
I decided to hold off on joining the choir of fans excited about a new technology, and let the hype settle down a bit before posting overly positive impressions.
Since that time two important things have happened that give me additional perspective on the 3DS.
1. I saw a Movie in 3D: I had the chance to see Toy Story 3 – one of the best films I've ever seen – in IMAX 3D. I've been thinking about it since the moment I left the theater, and I definitely want to see it again. However the only memory I have of the 3D was needing to put glasses on in the first place. Now that I've seen that 3D can be done without any glasses, it's simply difficult to go back. I don't care if the technology is different on a small handheld, or if it's impossible to do glasses-less 3D for more than one person. Once I had seen that it was possible, my perception of 3D changed, as did my expectations. I expect this to happen for many people once the Nintendo 3DS is out.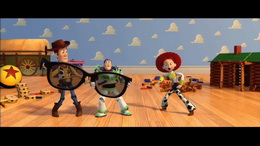 2. I played with an iPhone 4: Since I've had my iPhone, I rarely bring my Nintendo DS anywhere. The iPhone eliminates the need to carry 2 devices with me, and also stores an unlimited number of games on internal storage without the need for cartridges. I can even buy new games anytime, anywhere. Apple has become Nintendo's primary competition in the handheld space. Nintendo seems to be fighting back with a combination of 3D technology which isn't likely to appear on the iPhone anytime soon, and by branding the 3DS platform so it appeals to hardcore gamers as much as the DS appealed to casual gamers of all ages. Sure the 3DS will have Brain Age games and Nintendogs, but it'll also have Resident Evil, Final Fantasy, Metal Gear Solid, and Splinter Cell.
It's funny how this has worked out. To a certain extent, Nintendo abandoned the hardcore to focus on building an expanded casual audience in the "blue ocean". Now, Apple has come in with a platform that is more convenient for the casual audience, and Nintendo is realizing that it has to protect it's traditional hardcore fanbase before they get too far away.
My initial impressions haven't changed. In fact, playing with the iPhone 4 and seeing a 3D movie only reaffirmed my feeling that the Nintendo 3DS will change the way people perceive 3D, and will certainly change the handheld videogame market substantially. We still need a price. We still need a launch date, and we still need to see how Nintendo markets the 3D given that it can't be seen in photos or videos. Still it's hard to imagine a situation in which the 3DS doesn't knock it out of the park.
Comments