'Cougar Town' Recap (Season 3, Episode 11): All Aboard the Travis and Laurie Ship!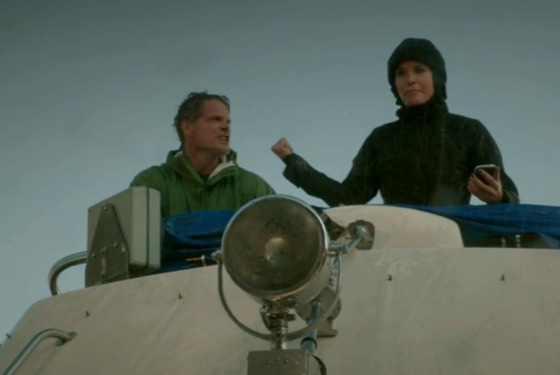 It's been a little while since I've done a Cougar Town recap, but thankfully the show functions on a mostly anecdotal level and episodes can be missed here and there without major plot points being lost. Right now Cougar Town is at a crossroads of renewal and cancelation. Personally, I'd like to see the show return. While cast is talented and charming, the people who deserve to see a fourth season most are the co-creators, Bill Lawrence and Kevin Biegel. Week after week they've taken the time to drum up interest in the show and interact with viewers on twitter. Plagued by an unfitting title (a running gag on the show), a bad timeslot and a relatively small fan-base, Cougar Town just doesn't get enough respect. I'm not quite sure what direction the show can take in a fourth season other than exploring Jules' married life, but the show is so low-key it's hard to say no to. Part of the gag with Cougar Town is there's literally nothing at stake except how much wine is left in the bottle. It's lighthearted, fun, and I can think of much worse things to fill the timeslot (like The Middle) so please ABC, keep Cougar Town around.
Probably the ongoing plot I'm the most vested in watching Cougar Town is the ongoing almost-relationship between Travis and Laurie. This was the focal point of last night's episode so I was glad to see this dynamic explored fully rather than casually mentioned episode to episode. The moments between Travis and Laurie in this episode were fantastic, as were the moments between Grayson and Ellie (there's a side plot where Grayson is trying to develop a catch phrase). Sadly, this episode all but confirmed something I'd been suspecting watching the show for a long time that's proving to be a crucial flaw in the formula: the protagonist is the least likeable character.
Don't get me wrong, there's a lot to love about Jules. Courtney Cox brings an irreplaceable, ebullient sense of energy and cultural unawareness to the ensemble, but her relationship with Travis is getting borderline obnoxious. I understand that it's natural for her to feel protective of her son (especially since he wants to have sex with her best friend who also had sex with her now fiancée and he makes out with her fiancée's baby momma), but hasn't that dynamic been long established at this point in the show? I'd like to see a Jules/Travis storyline at some point in the course of Cougar Town that's NOT about Jules being over protective and then eventually caving and letting Travis do whatever he wants at the suggestion of her wine-guzzling peers. It's all getting a little incestuous too. When you have a show with a relatively small cast and very few guest stars such as Cougar Town, the pairings are limited, especially when four of the characters are in long term relationships. Travis has interesting relationships with other characters, but I can't help but wonder if the show would be better if Travis had never been "conceived" as Jules' son in the first place. If he had simply been Bobby's son born of an estranged mother, I think the show would feel a lot less suffocating at times. His relationship with Jules can be downright weird, and while the show acknowledges the strangeness of this time and time again, I'd like to see them do some different things with the Travis character, and it's a shame that in the one episode where they allowed him to shine, they pulled the same over-protective shtick with Jules.
Without complaining further, the premise of the episode in a nutshell is that Hurricane Mary is coming to town, which means it's an excuse for the Culdesac crew to play games, sit in the dark and imitate scenes from The Perfect Storm. Laurie's twitter boyfriend in the army has just applied for another term of service, which convinces her that her relationship is ruined. At Bobby's encouragement, Travis goes for it with Laurie when she's most vulnerable, but ends up dancing with her with an Ipad taped to his head projecting an image of her boyfriend on skype. Throughout the episode, Jules grapples with the concept of her best friend dating her son and tries to force her friends to agree with her. Ultimately, Laurie decides to "stay with" her boyfriend, but I'm sure this was done just to pace the show until the inevitable Travis and Laurie get-together.
If you like Cougar Town, and you want to see it back next year, be sure to tweet about it, tell your friends, and above all else, tune in live. It's a bit sad that TV can no longer be enjoyed from a purely passive standpoint by the fans, but it's also incredibly rewarding see your dedication to a show pay off because you believe it's worth fighting for.
PS: Abed is mentioned in the title card of this episode. Cool cool cool.
Comments