'Girls' Recap (Season 1, Episode 2): 'Girls' Finds its Stride.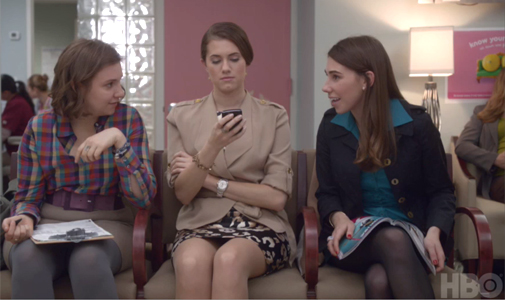 Just about all the doubts I expressed in my review of the Girls pilot flew out the window with the second episode, which was genuinely funny on more than one occasion, and fairly charming. One reviewer drew comparisons to Wilt Stillman's films. To do so (especially to his recent Damsels in Distress) wouldn't be fair to Girls after this second episode…it's much funnier than that.
In the first episode, Lena Dunham's character, Hannah has just been ditched by her parents and fired from her internship. The second episode focuses on a much more anecdotal subject, and it works. After Hannah's somewhat-boyfriend has sex with her she has to accompany her foreigner friend Jessa to the abortion clinic, and she decides that she needs to be tested for AIDS. "Maybe I want AIDS." She laments as she lays on the table and the medical examiner breaks out the metal tools. She's incredibly neurotic, and while I'm not sure that conveyed in the first episode, it's an immediately likeable quality found in TV characters. They know their audience well enough to know that they're not exactly "normal" people and they might be struggling with some of the same issues the Girls-girls are struggling with.
Marnie, Hannah's best friend, is having serious relationship problems with her boyfriend of four years. He's not pleasing her romantically, but when he turns her around, he starts emphatically yelling "Oh God." She encourages him to be more manly, but I have a feeling that in the coming episodes it will be revealed that Marnie's boyfriend is gay. The men in the show are portrayed as extremely flawed characters. One weak, the other, Hannah's "lover," aloof and clearly only interested in her for sex. They manage to still be the funniest characters in the ensemble though, so they're doing something right in their depiction of men.
I still have some of the same concerns I voiced in my recap of the pilot. Namely, I'm not sure how long Girls can continue. As funny as it is I can't see it lasting longer than a season or two simply because of how niche the audience is and how limited the breadth of real world issues they're willing to cover might be. If the protagonist must struggle with something about growing up in every episode, it will be dealt with thematically by the end of the episode, like the abortion clinic "skit" in this episode. This is not like Degrassi where the show will focus around relationships and characters bonding. The characters have already bonded when we first meet them, and I doubt that new ones will be introduced into the fold. The life lessons imparted from every episode will be more of subtle, personal truths. I'm okay with this, I'm just wondering how long Girls can keep up the good work.
Comments