'New Girl' Recap (Season One, Episode Twenty One): "Kids"
On this week's "New Girl," everyone is dealing with babies–making them, dating them, trying to impress them. It's enough to make you want to get your tubes tied!
This week's "New Girl" is brought to you by the letter "birds" and the number "bees." Or the letter "children" and the number "are impossible to please." Or the letter "dating" and the number "a girl way younger than you." Yes, I know none of those are actually letters or numbers. That's why this show isn't on PBS, duh.
Cece is pregnant! Possibly. Maybe. But in the sitcom grand tradition , she's going to loudly freak out about it to everybody before she knows for sure, instead of just quietly taking a test in the bathroom at Stop N Shop, like a normal dignified human being. How could she be so irresponsible to make a possible Schmidt baby, you (and everyone on the show also) ask? It is implied that Schmidt's jack-rabbit-style lovemaking technique renders the condom a bit of a suggestion rather than a barrier. Ew. Cece acts weird to Schmidt instead of telling him; he interprets this as her possibly getting "girly" and interested in a real relationship, which he pretends to be afraid of but come on. In the words of a great prophet, bish please.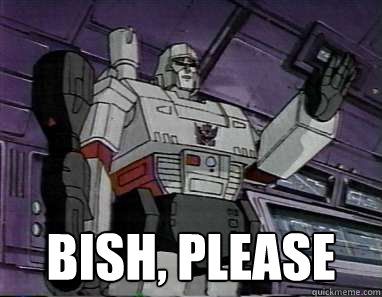 Jess is babysitting her older boyfriend Russell's daughter, Sarah, in her house, with all her roommates around, because that is just totally something people do. Sarah's mom is played by Jeanne Tripplehorn, who you probably know from that Mormon group sex show, but who I will always remember most fondly from her role in "Waterworld." Sarah is kind of bratty, because at least she recognizes how fucking weird a situation this is, and also because all 12 year olds are literally the worst people ever. She touches Jess's bras, asks if she can stop doing her homework because Jess is dating her dad, inquires about a sex position called "animal style," and also "falls" "in love" "with Nick." Sara then locks herself in Nick's room, out of desperate love for Nick. Oh my god, 12 year olds. Ack! It's like we all used to be gremlins!
Cece is pretending to be chillaxed and dealing with her possible pregnancy by being overly casual with Schmidt, because that is also a thing that people on TV do when they might be pregnant. Schmidt, in response, calls Nick up, pretends he is a girl named "Nicole," and talks to "Nicole" like he is a member of Bell Biv Devoe. Oh Schmidt, even your potential super-sperm can't stop me from wanting you to lay a little bit of that New Jack swing on me. Cece is then desperate to talk to Jess, but Jess is busy trying to talk Sara out of Nick's room. Cece yells at Sara through the door, then apologizes to Sara through the door in a way that alerts Schmidt to the fact that his juice, indeed, has become loose, and that he might have a mini-Schmidt on this hands.
Nick is freaked out by how weirdly calm Schmidt is in the face of this news. But Schmidt, in the grand tradition of all guys on TV and in movies and in books and probably in ancient Mesopotamian shadow plays, thinks that a baby might be just what he needs, that this might be a sign from the universe telling him that Cece is the best girl he's ever gonna meet. Schmidt tells Cece that he will support her no matter what, which is a line clearly thrown in to placate cranky TV writers like me who were about to type "OH LOOK ANOTHER SHOW WHERE ABORTION DOESN'T EVEN EXIST!" and so, to that, I say: thank you, "New Girl."
Jess apologizes for the scenes of vivid and disturbing adult immaturity that she has just witnessed, but Sara digs it–"Your lives are like Gossip Girl, except you're all old and poor." (Sidebar: that is actually how I feel about myself literally all of the time). Sara then moons over Nick a little more, in a way that is both cute but also totally painful if you have any personal memories of being a 14 year old girl who was convinced that you could get your 35 year old English teacher to fall in love with you.
But come dinnertime, Sara has a rival. It's Chloe (Chloe Bridges), the girl Nick is actually dating (you will recall the college girl sexing binge he began a few episodes back). Sara hates Chloe, and I mean, why not? Chloe Bridges' biggest IMDB credit is "Camp Rock 2," which everyone knows is vastly inferior to original flavor "Camp Rock." But Sara hates Chloe even more for reminding her how close Nick is to being in her own grasp. For Chloe, you see, used to ride the school bus with Sara. And Jess subbed for her 8th grade English class. Yes, friends, Chloe is 18. Meanwhile, Schmidt rubs Cece's stomach and plans to name their unborn child after famous rabbis. Babies datin' babies! Wait, what? And then Sara runs and locks herself in Nick's room again.
With J-Tripps almost ready to pick Sara up, it's a race against time to get her out of Nick's bedroom. Nick and Jess to talk Sara out of Nick's room, where they assume she is hiding because she is embarrassed, by listing all the stupid shit they've ever done (Nick: "I am 30 and I have peed in every pool I've ever been in"). But it turns out that Sara isn't embarrassed–she is stuck in about nine of Jess's bras, which she was trying on over her clothes. J-Tripps arrives as Nick and Big J are trying to get her out of the boulder-holder mess, which of course horrifies her. Cece then runs in screaming that she's gotten her period, and hugs everyone, including J Tripps.
Jess has had enough of her taste of motherhood ("I"m not having kids until I'm 80″), as has Cece. She declares that things between her and Schmidt can now go back to the way they were, and he can go on his date with "Nicole." Schmidt hurries her away to her car so that she can't see the giant "Marry Me" proposal he had sky-written above their apartment. Aww, shit.
Not that everything in the world has to do with Lena Dunham and "Girls," but watching Lena Dunham's "Girls" this weekend actually really made me appreciate "New Girl." Is that the sickest thing you've read all week? But hear me out! Watching "New Girl" in our post-"Girls" world, I was appreciative of the racial diversity, the characters who have jobs…and the sunshine. Yup. I'm sick of pretending that things that are dark are somehow inherently honest and real, even if they have no real depth, just because of their darkness.
Now that Jess has been expanded from a glitter-thimble of a girl into an actual human being who just happens to be wearing a party dress at all times, I think "New Girl" has become one of the more enjoyable female-fronted sitcoms on TV these days. And I thought tonight's episode, though a light confection, still neatly addressed the issues at stake when a generation that never got it together to grow up themselves are called on to act as parents–in a way that was both entertaining and engaging. Jess's cupcake party lifestyle is roughly as realistic as Dunham's poorly sketched out fauxhemian nightmare, anyway. Or maybe I'm just too damn old for "Girls."
Or, you know, because I'm a contrarian asshole, I had to wait for America to elect someone else the princess of TV before I could get behind the previous princess of TV. Whatever. The Princess is dead. Long live the princess.
DISCUSSION QUESTIONS
1. You know what? Let's just eat some cereal for dinner/ candy for breakfast, kick back, and enjoy some photos relevant to tonight's conversation. It's okay, we're adults, we can waste our time any way we like!
Comments