Top 10 Technology Epic Fails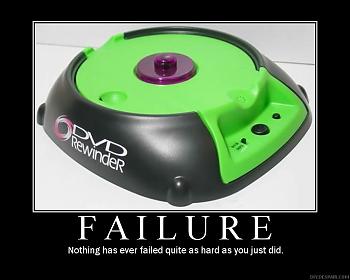 For the technologically deficient folks who take sadistic pleasure in technology's little failings…
I'll admit it, I'm somewhat of a technophobe – or as I like to put it – I repel technology. It really is a curse; from phones to cameras to computers, if it's a technical gadget in my possession, it will break.
I've tried to make friends, extend the olive branch if you will, to technology. I've read entire instruction manuals, followed all recommended usage instructions, handled my gadgets with gentle care – for the most part. But technology continues to fail me.
I'm tired of technology being so perfect all the time for everyone else, so I take particular pleasure in its rare, yet epic, failings.
Fail #1: Autocorrect
Autocorrect fails so epically that there is a whole website devoted texting mishaps called Damn You Autocorrect. We all know autocorrect is extremely helpful, makes texting easier, blah, blah, blah, but I particularly relish its devilish side. Thank you, Autocorrect, for changing "motorcycle" into "moustache" and "whole milk" into "whore milk." Motorcycles and whole milk will never be the same again. Warning: you may be at risk of experiencing extreme awkwardness when texting with autocorrect.
Fail #2: Segways
Hey if you want to spend several thousand dollars on a glorified scooter, that's your prerogative. For the basic i2 model expect to pay upwards of $5,500, and around $8,000 for this monstrosity: the x2 Golf. But what really gets me about Segways is seeing police officers on them. So that's where my tax dollars are going? What happens if the criminal runs up some stairs, Officer Paul Blart? Though, there are some pretty hilarious videos on youtube involving Segways. Including Ellen Degeneres's epic Segway fail during the taping of her show.

Fail #3: AOL
Is it just me, or should AOL have died along with early 2000s boy bands? It's a parasite, maybe even the unkillable cockroach of the tech world. Why was it so successful? People like me didn't know any better. But with an inferior product, higher prices, invasive and rapacious marketing campaigns, and a chinese finger trap of a grip on your nethers, AOL was a 1989-2006 tech disaster. Even with the new re-branding as Aol, the reputation still lives on. Especially when Patch – Aol's network of hyperlocal news websites – is reportedly losing about $150 million per year.
Fail #4: FaceTime
This coveted feature of the iPhone 4 was supposed to revolutionize the smartphone. Video calls, how novel! The problem is that you have to be hooked up to wifi to use it. Not only that, but many people – including myself – have had continual trouble actually making a FaceTime call. Everytime I try, a message pops up that says "FaceTime Failed," and I say, "Thank you, FaceTime, I know."
Fail #5: Google vs. Apple Rivalry
I don't know about most consumers, but personally, I'm tired of playing the rope in the tug-o-war between Google and Apple. It seems that rather than attempting to create a superior, more efficient product, these two companies are more invested in making their products incompatible with each other. Why not develop a completely new app or feature rather than reinventing the wheel? #Apple Maps. Where is the edit feature on the Google Drive app for iPhone? This kind of petty passive aggression should be reserved for playgrounds and family reunions.
Fail #6: The iPong Table Tennis Training Robot from Sharper Image
It appears that the think-tankers over at Sharper Image are running out of ideas – then again the production of semi-useless crap is kind of their M.O. Even worse, there's actually a market for a machine that shoots ping pong balls at you. What happened to the good ole play-against-the-wall thing? For a whopping $150 you can practice your paddle swing and afterward retrieve the 100 ping pong balls bouncing around your garage.
Fail #7: Bluetooth handset for your wireless phone
"A Bluetooth handset, what? Do you mean headset?" you ask. No, a bluetooth handset is exactly what it sounds like: a land line phone-sized handset, not the kind you clip on your ear. My question is: if you have a wireless, bluetooth-enabled cell phone, do you really need an additional, larger and more-cumbersome device to hold up to the side of your head?
Fail #8: iFart
For all those times you find yourself thinking, "If only I could produce just the right fart sound for this situation…"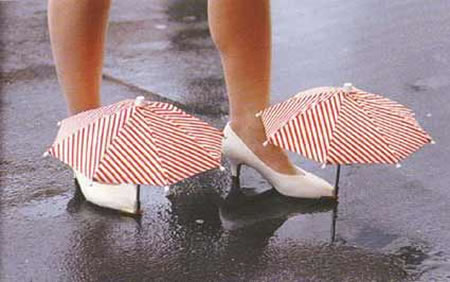 Fail #9: Unuseless Japanese Inventions
For all of you as technologically deficient as I am, The Big Bento Box of Unuseless Japanese Inventions by Kenji Kawakami is a must read. These "unuseless" inventions, known as Chindogu, are "inventions that seem like they are going to make life a lot easier, but don't." The book is an astonishing account of modern society's ability to produce unnecessary (though creatively-imagined) crap. Is your umbrella not providing coverage for your shoes? You're in luck because the umbrella shoe savers exist. They're mini umbrellas that clip to the front of your shoes; you'll never have soggy toes again!
Fail #10 QR codes
I'm so far behind technologically that I don't even know what these are. Though I'm beginning to think that many others don't understand them either, or what they're doing on banana stickers, my Taco Bell Doritos Locos Tacos, or temporarily tattooed onto children. One probable reason for my confusion is that I've never actually been able to successfully scan a QR code. Now that could just be my personal deficiency, but could it be that scanning a QR code is simply more trouble than it's worth? Check out the Tumblr WTF QR Codes if you take as much sadistic pleasure in QR code failings as I do.
Photo Credits:
Intro:
http://www.starcitygames.com/magic/standard/15947_Innovations_Epic_Fail_Hollywood.html
Autocorrect:
http://www.damnyouautocorrect.com/
Segway:
http://www.segwayofoakland.com/police.htm
AOL:
http://weknowmemes.com/2011/11/would-you-like-to-install-aol-7-0-what-year-is-it/
FaceTime:
http://cdn.memegenerator.net/instances/400x/19215631.jpg
Google Apple Rivalry:
http://www.webpronews.com/steve-jobs-biographer-jobss-android-rage-was-real-2012-04
iPong:
http://wanttt.com/w/want_detail/43861/
iFart:
http://ifartmobile.com/
Umbrella Shoe Savers:
http://www.pleated-jeans.com/2012/03/27/16-completely-unnecessary-inventions/
QR Codes
http://wtfqrcodes.com/
Comments