Can Madonna Still Win an Oscar for 'W.E.'?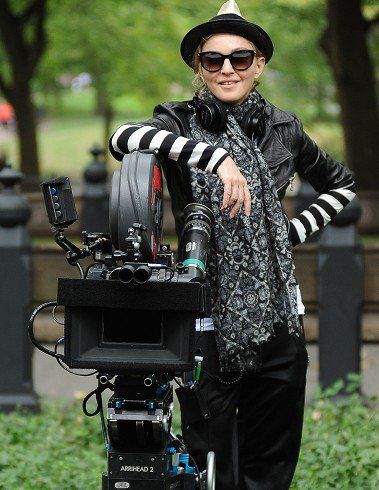 The reviews are in! Verdict: "W.E.," Madonna's second directorial effort (set for release in early 2012), is apparently the latest in her long string of cinematic disasters.
The film, which, in part, chronicles the romance of American divorcee Wallis Simpson and Britain's King Edward VIII (sidebar players in the most recent Best Picture Oscar winner, "The King's Speech"), has earned a 30 percent rating on Rotten Tomatoes, which is dangerously close to "Twilight: Breaking Dawn Part 1″ territory (26 percent).
What an extraordinarily silly, preening, fatally mishandled film this is," sniffed the Guardian in a one-star review, while the Los Angeles Times wished Madonna would "find other creative outlets for those times when she's bored with the pop-star life.
Despite its sound critical drubbing, the members of the Hollywood Foreign Press were impressed enough to give the film two Golden Globe nominations, for Best Original Score and Best Original Song for "Masterpiece," which plays as the "W.E." credits roll. Those might not be as impressive as Best Actress in Motion Picture Comedy Or Musical — the category Madonna won for "Evita" in 1997 — but two nominations are certainly better than none.
In the Best Original Song category, she'll face big-name competition from Elton John ("Hello Hello" from "Gnomeo and Juliet"), Chris Cornell ("The Keeper" from "Machine Gun Preacher"), Mary J. Blige ("The Living Proof" from "The Help") and Glenn Close (the Sinead O'Connor-sung "Lay My Head Down," for which Close wrote the lyrics, from "Albert Nobbs").
And what about the song? It's throwback Madonna — shades of her 1998 single "The Power of Good-bye" and the acoustic tracks on "Music," her 2000 album — but it's hardly throwaway. Though it's a lovely tune, its chart chances in this age of Gaga might be practically nil. (If we were stuck in the '90s, "Masterpiece" probably already would be No. 1 on the Hot 100.) But then, so were those of Annie Lennox's "Into the West" (from "The Lord of the Rings: Return of the King"), and that song still went on to win the Best Original Song Oscar in 2004.
Though the 2012 Academy Award nominees won't be announced until January 24, if I had to pick an Oscar frontrunner from among the GG nominees, I'd go with Elton John, who already has an Academy Award for "Can You Feel the Love Tonight" from "The Lion King," or Mary J. Blige, whose song is from a Best Picture contender and who has the sort of widespread industry respect that Madonna has never been able to muster, despite decades of gold and multi-platinum success and induction into the Rock and Roll Hall of Fame.
Or maybe they'll want to toss this bone to the shockingly Oscar-less Glenn Close, who'll likely be nominated for Best Actress but has increasingly slimming chances of winning in that category. This could be the Academy's way of thanking Close for her decades of cinematic service.
But it's an honor just to be nominated for a Best Original Song Oscar, and if Madonna can pull that one off, she'll finally have some legitimate validation in Hollywood, even in "W.E." sells even fewer tickets than "Swept Away."
http://www.youtube.com/watch?v=ErZpQu7-bIo
Comments