Gay Florida Man Faces Tragic Chick-fil-A Addiction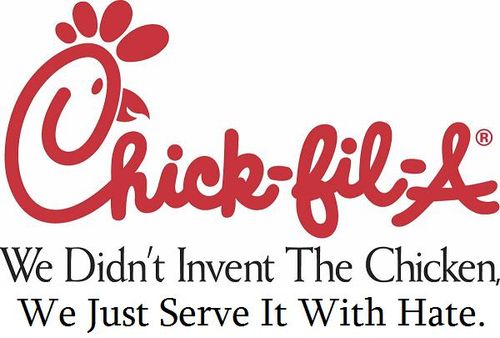 Tampa area gay man Clarence Truman has conflicted feelings about Chick-fil-A.
The Christian fast food chain has drawn ire for their considerable contributions to bigoted anti-gay groups such as the Marriage & Family Foundation, Exodus International and the Family Research Council. Today, in an interview with the Baptist Press, Chick-fil-A President Dan Cathy said that the company is "very supportive of the family — the biblical definition of the family unit." He continued spouting such ignorant nonsense as "I think we are inviting God's judgement on our nation when we shake our fist at Him and say 'we know better than you as to what constitutes a marriage' and I pray God's mercy on our generation that has such a prideful, arrogant attitude to think that we have the audacity to define what marriage is about," completely missing the irony inherent in his arrogant assumption that he knows God's will, to say nothing of his ignorance of the fact that marriage as defined in the bible basically grants the husband ownership of his wife.
"Well, their bigoted views are really terrible," Truman said. "But I just can't resist their spicy chicken sandwich." Asked how often he attended the restaurant, Truman shifted uncomfortably in his seat, "Maybe once a month," he said, "I try to go as few times as possible…alright, three times a week. I can't help it: I have a short lunch break and it's the only fast-food that actually tastes like chicken. Okay, fine: I go every day. Are you happy?"
Asked if Dan Cathy's statements would affect his patronage of the fast-food chain Truman shook his head. "I wish I had that much will power," he said. "But that chicken is just too damned tasty."
Truman added that he keeps his Chick-fil-A habit from his partner of 12 years, Jonathan Brenson. "I tell him I go to a local deli for lunch. Luckily he's never asked about it — there aren't even any delis anywhere near my office."
"Look," he said, "I'd make my own chicken sandwiches, but I can't cook for shit."
[If you love Chick-fil-A but hate bigotry, check out this recipe to make your own Chick-fil-A style sandwiches at home. And if you can't cook for shit, just try your best to resist.]
Image: pghlesbian.com
Comments