Occupy Oakland Calls For General Strike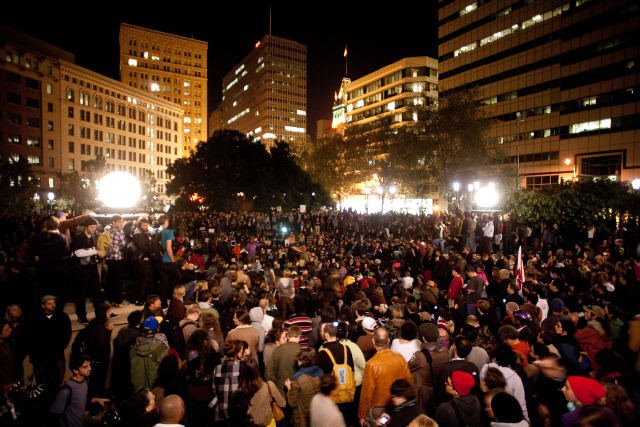 At the Occupy Oakland General Assembly last night at Oscar Grant Plaza, where city officials allowed protesters to return, the group voted in favor of a general strike on November 2nd.
Of the 1,607 people subject to the vote, 1,484 voted in favor of the resolution, only 46 against it. 77 people abstained from voting. The General Assembly says they operate on a modified consensus process whereby a proposition needs 90% in favor to pass, with abstaining votes removed from the final count. Occupy Oakland saw their ranks swell during last night's events, with some estimates for the peak attendance as high as 3,000.
The proposal is for "a city wide general strike and we propose to invite all students to walk out of school. Instead of workers going to work and students going to school, the people will converge on downtown Oakland to shut down the city. All banks and corporations should close down for the day or we will march on them."
At the assembly, some thought was given to those who could not skip work – they were invited to join the group at the end of the work day. There was also some concern that students could not walk out on such short notice, which I don't quite get. Isn't a walkout kind of supposed to be disruptive? Not to mention the high proportion of teachers who will likely be walking out (or not showing up) as well. At any rate, alternative dates for student walk outs were suggested, although it is still highly likely the student walkouts will occur on November 2nd with the general strike.
The proposal concludes "The whole world is watching Oakland. Let's show them what is possible."
With widespread sympathy for Occupy Oakland garnered from the brutal tactics used by the Oakland Police Department, Occupy Oakland is expecting a huge turnout for the strike as even those not originally sympathetic to the cause have expressed their solidarity with the protesters. The general strike will be the first in this country since 1946, which also occurred in Oakland.
More Faster News:
Oakland Police Department and Protesters Face Off at Occupy Oakland
#OccupyOakland and the Twitter Hashtag Solution
State Police Opt Not to Arrest Occupy Albany Demonstrators
Comments