Erik Oster's Top 10 Albums of 2011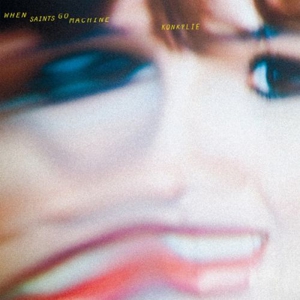 This was an exceptional year for music, which made choosing ten albums to represent the year difficult. It was a particularly good year for bands releasing their first full-length album, including a full four debuts on this list. That's not to say there weren't any good albums by veteran artists: The Bats and Bjork both released their best albums in years. This list doesn't represent the "most important" albums of the year; I don't have any pretense that these albums are "objectively best," and I don't believe popularity should be taken into account when making year-end lists. It's simply the 10 albums that I liked best this year.
1: When Saints Go Machine; 'Konkylie': This Danish electro-pop duo combines elements of dance and hip-hop production with excellently written synth-pop to create the most intoxicatingly fresh collection of songs this year. "Kelly" is the clear stand-out, but other highlights include "Church and Law," "Chestnut," "Jets" and the brilliant closer "Add Ends."
2: Veronica Falls; 'Veronica Falls': 2011 was a good year for debut full-lengths, and Veronica Falls eponymous album was at the top of the pack. There's not a bad track on the album, and its' highlights ("Stephen," "Come On Over," "Misery" and "Bad Feeling," to name just a few) are among my favorite songs of the year.

3: Lykke Li; 'Wounded Rhymes': Not only is there not a bad song on Lykke Li's Wounded Rhymes, but around half of the songs here are some of the best songs released tin 2011 (like "Jerome," "I Follow Rivers," "Youth Knows No Pain" and "I Know Places"). This album may have been recorded in Los Angeles, but it's the perfect winter soundtrack: everything from Lykke Li's voice to the production to the bleak lyrics seem perfectly matched for an icy day in January.
4: Shabazz Palaces; 'Black Up': Seemingly emerging out of nowhere (the hip-hop collective did release a pair of EPs late last year, but I was unaware of them) to save hip-hop from the sorry state it currently finds itself in, Shabazz Palaces are led by Ishmael Butler, who was known as Butterfly while a member of Digable Planets (whose last album came out in 1994). The innovation and stylistic verve of Black Up exposes the inherent vapidity of rap's major players in 2011 – Lil Wayne, Kanye West and Jay-Z.
5: The Luyas; 'Too Beautiful To Work': The best rock album of the year (if you prefer to label the music The Luyas make as such), The Luyas make some of the most unique music you're likely to hear in 2011 – or any other year, for that matter. Their intriguing selection of instruments (which includes a kind of 12-string electric zither called the Moodswinger, as well as French Horn and bells) allows them to craft previously unheard textures, and Jessie Stein's vocals are just about perfect.

6: The Bats; 'Free All The Monsters': While The Bats' new album doesn't exactly cover much new ground (not The Bats' forte), it's the most solid album the group has released since 2005's At The National Grid. Several songs on Free All The Monsters recall that brilliant comeback album, while others bring to mind classic Bats albums such as Daddy's Highway, The Law of Things and Fear of God; the songs chosen for videos, "In The Subway" and the title track, are particular highlights — though the album is remarkably consistent, as The Bats stick to their strengths.
7: Bjork; 'Biophilia': This album was really hard to place because on the one hand it's a bit inconsistent, but on the other its' highlights top just about anything else released this year. So, Biophilia makes my list on the strengths of "Moon," "Virus" and "Crystalline," but it's not as high on the list as it could have been if there were fewer misses.

8: True Widow; 'As High As The Highest Heavens And From The Center To The Circumference Of The Earth': Ridiculous album title aside, this is a solid sophomore effort from this Dallas band. True Widow craft a sound they've dubbed "stonegaze," combining the heaviness of stoner rock with the attention to sonic detail of shoegaze; True Widow's melodic sensibilities and the vocals of Dan Phillips and Nicole Estill hold everything together, such as on standouts like "Skull Eyes," "Jackyl" and "Blooden Horse."
9: Seapony; 'Go With Me': Seapony's debut storms out of the gate with "Dreaming," the album's highlight, and delivers one sugary pop confection after another (with Jan Weidl's vocals a particular strong point). If none of the other songs quite reach the heights of "Dreaming" a few come close: "Go Away," "Always" and "So Low" are some other high points on this fine album.
10: Craft Spells; 'Idle Labor': Craft Spells' debut full length features some excellent 80s-inspired pop songs (like "The Fog Rose High," "Scandinavian Crush," "Party Talk" and "Your Tomb" but also contains its fair share of filler, which prevents it from being higher on this list.
Comments