Why Is Lindsay Lohan Still in Legal Trouble?: A History of LiLo
If you can't remember why Lindsay Lohan is still on probation, still standing in front of the judge regularly, and spending her time at a Los Angeles morgue, you're not alone.
13 years ago in 1998, Lohan graced the screen in The Parent Trap, cementing her as a Disney child that would go on to star in Disney motion pictures and television movies. Lohan starred in Freaky Friday in 2003 and shed her Disney image by starring in 2004's Mean Girls, a film that was expected to launch her adult career in the same way it put writer Tina Fey on the map. She started a music career, releaseing two albums, Speak and A Little More Personal (Raw) in 2004 and 2005. Following Mean Girls she starred in a string of commercial failures, 2006's Just My Luck, 2007's Georgia Rule and I Know Who Killed Me. Her film career ended with the TV movie Labor Pains in 2009 and a role in Robert Rodriguez's Machete in 2010.
Things went south for Lohan during the filming of 2007's Georgia Rule, she was hospitalized due to being "overheated and dehydrated" according to her publicist. Studio executive James Robinson made his difficulties with Lohan public, calling her "irresponsible and unprofessional," noting her late nights out partying while filming.
May 26, 2007: Lohan was arrested for a DUI, putting her film career on hold. Police found cocaine in her vehicle. She entered Promises Treatment Center rehab facility, completing a 45-day stay. After leaving the center she was fitted with an ankle bracelet to monitor her sobriety.
July 24, 2007: Lohan was arrested for a second DUI and returned to rehab. The cops, once again, found cocaine on her person.
August 2007: Lohan returned to rehab for the third time in a year, staying for around two months.
August 23, 2007: Lohan pleaded guilty to misdemeanor use of cocaine and driving under the influence. She was sentenced to one day in prison, 10 days worth of community service, and 3 years of probation.
November 15, 2007: Lohan served 84 minutes in jail.
2009: Throughout the year, Lohan failed to attend court-ordered substance abuse treatment classes, causing the court to extend her probation by an additional year.
May 2010: Lohan did not show up for a hearing due to her DUI.
May 24, 2010: Lohan was ordered to wear an alcohol-monitoring ankle bracelet, undergo random drug tests, and attend weekly alcohol education classes.
June 2010: Lohan appeared on Bravo's reality show Double Exposure, arriving on set hours late and seemingly under the influence of drugs.
July 6, 2010: Lohan's judge determined that she had violated her probation and was sentenced to 90 days in jail, followed by a 3-month rehab program. Lohan was released after serving only 14 days of her sentence. Lohan immediately went to her rehab stint, and was released after staying only 23 days.
September 24, 2010: Lohan failed a drug test, entering into the Betty Ford Center where she stayed for a court-ordered 3-month rehab stay.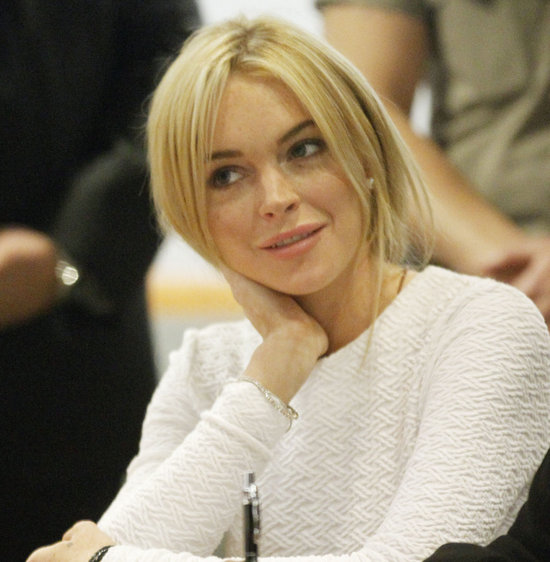 February 9, 2011: Lindsay is charged with stealing a necklace and served 35 days under house arrest in summer of 2011.
Summer 2011: While under house arrest, Lohan failed a random drug test, creating a flurry of rumors about whether it violated her probation. It was determined that the failed drug test would not cause Lohan to receive any additional punishment.
October 19, 2011: Lohan's judge revoked Lohan's probation and sent her to jail with a $100,000 probation. She was ordered to complete community service at the Los Angeles morgue before her next hearing on November 2, 2011, to avoid any further punishment.
October 20, 2011: Lohan arrives to the morgue late for her 8 a.m. appointment and is turned away.
October 24, 2011: Rumors swirl that Lohan will pose nude for Playboy magazine.
The past four years seem like a whirlwind of arrests, DUIs, and stints in rehab in jail. Throughout all of this Lohan still managed to date female DJ Samantha Ronson, suedE-Trade for creating a commercial that included a baby mocking her, narrate a BBC documentary about human trafficking in India, begin work on a third album that never quite came to fruition, and sign onto and be subsequently dropped from multiple films.
Her tabloid character has enthralled Americans for over four years, making one wonder if she can bounce back from her drug use, DUIs, and public embarrassment in the same way Britney Spears and Paris Hilton have. But if today's news that she is looking to pose for Playboy to pay her bills is true, she may need a few more years before slowly returning to her career–if she ever gets off probation.
Images via: thesuperficial.com, voguenews.info, shoppingblog.com, and onsugar.com
Follow Alex Hughes on Twitter! @TheAlexHughes
More from Alex Hughes:
My Problem With 'The Real Housewives of New Jersey' Season 3 Reunion
Hannah Montana Star, Mitchel Musso, Busted for DUI
Kim Kardashian's Fairytale Wedding Recap: Part I

Comments