Word Play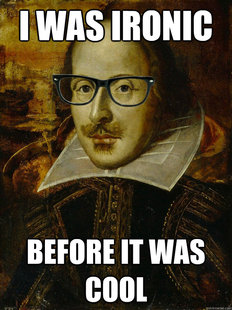 Linguistic change, follies, and conundrums
New words are forged every day. That thing that everybody's been doing online – tweeting – has even made its way into Webster's. With the largest vocabulary of any language and upwards of one million words, English is already a challenging language to learn. Throw in the daily additions – it is estimated that a new word is created every 98 minutes – along with the changes in connotation of existing words, and a non-native speaker could really end up with their goose cooked (a phrase originating from the mid-1800s).
In case you need a little grammar review: "connotation" refers to a word's culturally implied meaning, whereas "denotation" refers to its literal meaning. For example, "petite" can mean "small," but you wouldn't say "Kanye West has a petite ego." Not only would that be a lie, but "petite" also just doesn't seem appropriate when describing someone's ego. Think Alex Perchov, the quirky Ukrainian in Jonathan Safran Foer's Everything Is Illuminated, who says when describing himself, "I am homely, and also severely funny, and these are winning things." The character of Alex is comedic reminder of language nuances and the little mistakes we can so easily make as non-native speakers.
While connotations and their evolution can make for incredibly embarrassing situations, they can also be greatly entertaining. Everyone has had that shy-giggle, junior high school-aged, reddened-cheeks moment when reading a classic book or watching an old movie when a word's modern, connotative meaning differs drastically from its denotative, historical meaning. For example, in Shakespeare's Othello, Iago describes his ideal woman saying, "She that [...] Never lackt gold, and yet never went gay." Here the word "gay" is referring to sexual promiscuity, not homosexuality – a titter-worthy semantic shift for middle-schoolers everywhere.
Perhaps most entertaining when studying semantic change, are the slang vocabularies of yore. There are entire anthologies chock full of historical, linguistic delights including Shakespeare's Bawdy by Eric Partridge and Sex Scandal: The Private Parts of Victorian Fiction by William A. Cohen. In an article about Victorian sexual slang featured on Mookychick, I learned a thing or two about those corset-wearing, ankle-concealing prudes. A couple of choice terms are "dirty puzzle" for a particularly promiscuous woman, "melting moments" for amorous entanglements between more rotund lovers, and "twiddle-diddles" for male genitalia.
Now the question is: How will our descendants perceive and interpret our slang vocabulary? In the early 17th century the word "guy" was simply the name of a failed arsonist. Now it is a moniker for all men. Several hundred years from now, will Urban Dictionary become a vital tool in deciphering late 20th/early 21st century language? If anything, the Internet and social media have only served to accelerate semantic change. Will "lmao" become our standard response to a joke instead of "that's funny"? Well to that I guess I'd have to answer: danka. (Don't ask, nobody knows anyway).
Photo Credit: Quick Meme
Comments