Channeling Pat Nixon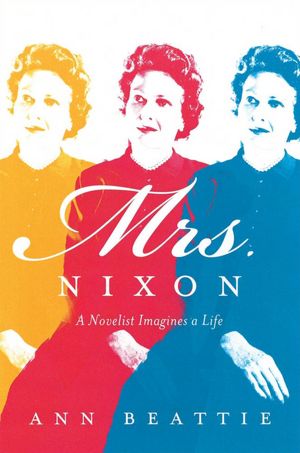 I see her walking with Him and the Fords to the helicopter, from whose steps He'll give one final V-for-Victory salute before going back to San Clemente and having a long-delayed breakdown. (Her mouth is a straight line; her mouth is always a straight line, even when she is smiling.) She tried to smile through the tears during the farewell speech to the White House staff, when He quoted Teddy Roosevelt, wept at the memory of his sainted mother, and thanked everyone but his wife. She tried to smile during the Checkers speech, but it can't be easy, even in the benighted 50's, to sit to one side of the set beaming on cue as your husband tells the nation that you have "a good Republican cloth coat" and that you'd look good in anything. I see her at the opening of the Reagan Library, taking her place among surviving presidents and First Ladies, and I marvel that she's still alive; I see her televised funeral, where He breaks down utterly, crying real tears for this woman who put up with his dirty tricks for 53 years and finally smoked herself to death in blessed seclusion.
Thelma Catherine Ryan was born dirt-poor in Ely, NV in 1912 and orphaned young. But wasn't she a California Girl at heart? Wanting to be an actress, she ditched the "Thelma" early on—well, who wouldn't?—and became "Patricia." Act she did, starring in high-school and college productions of already-hoary comedies and even landing a bit in Becky Sharp, Rouben Mamoulian's not-quite-successful 1935 film adaptation of Thackeray's Vanity Fair (her part is cut from the final print). Himself enamored of amateur theatricals, young Dick Nixon courted her assiduously; his famous iron-ass stubbornness was already in play, and he waited her out; finally she just gave in and married him—in the "Presidential Suite" of the Mission Inn in Riverside in 1940. The young Quaker lawyer was capable of romantic rhetoric, and he was never lacking in low peasant cunning: certain florid love letters survive, but even in them the canny reader can see Tricky Dick figuring the angles.
She could almost certainly have done better. Pat Ryan was not without other offers. Perhaps no other suitor could have gained her the White House, but another husband might have brought her the tranquility she never seems to have found as "the perfect political wife." That's surely one of the subtexts of Ann Beattie's admirable Mrs. Nixon: A Novelist Imagines a Life (Scribner, 2011; $26). But having decided to play Mrs. Nixon, this model of Depression-era determination and grit made it the role of a lifetime, never stepping out of character, at least in public. About the private Pat Nixon we know little, and Beattie has built this pomo hodgepodge of a book around catching Mrs. Nixon in her metafictional snare. That it can't be done is a foregone conclusion; the fun for Beattie—and for us—is in the writer's virtuoso attempts to channel the Sphinx-like First Lady, dead these 19 years.
I met Ann Beattie in the 80's when she was on tour plugging the collection that would become Where You'll Find Me, and her first question to an autograph-seeking young fan was, "Are you a writer?" She's a writerly writer, and she indulges her preoccupation with the production of fiction to the fullest in Mrs. Nixon, bothering very little with the known facts of Thelma Ryan Nixon's life and speculating instead about how a writer—a Baby Boom writer, say, who grew up with images of Mrs. Nixon—might treat an elusive subject. Beattie doesn't pretend to be a biographer. She's interested here in the dialogue between the Nixons that we're not privy to, in the telling detail that the historian overlooks but that the novelist seizes on. What did the Nixons say to one another when Ike had his heart attack and RN (as this monster of egotism referred to himself) became the de facto Leader of the Western World? RN tells us about his own actions during this time in Six Crises, but Pat—typically–receives scarcely a mention. What was Mrs. Nixon feeling inside the limousine during the disastrous visit to Caracas, when the vice-presidential motorcade was pelted with debris and spit? What was the long, lonely, but finally peaceful retirement like in San Clemente, then Manhattan, and finally in New Jersey? On these Beattie speculates masterfully, treating us to disquisitions on Chekhov, de Maupassant, A.A. Milne, and Bette Davis. In some of the book's most satisfying chapters, Beattie actually assumes the narrative voice of Pat Nixon, and the result is a delightfully unnerving prose style, part June Cleaver, part Yellow Wallpaper, wholly convincing.
I wonder if this highly inventive book will be the last book we ever see on Pat Nixon. Beattie has read exhaustively about the president, but there isn't much out there about Mrs. Nixon alone: Beattie openly relies more heavily on Julie Nixon Eisenhower's schmaltzy, too-earnest Pat Nixon: The Untold Story (1986) than on any other source. In death as in life, RN remains a historian's (and a psychoanalyst's) wet dream, while Pat smiles absently from her corner of the set. I can't foresee a future where Mrs. Kennedy is forgotten, and I predict a whole spate of books about Mrs. Reagan when that formidable lady joins the Gipper on that big soundstage in the sky (her film career, while negligible, surpassed Pat Ryan's). Betty Ford carved out her own niche in cultural history, and we won't even mention Hillary in this context. Sadly, Pat Nixon seems to resemble Laura Welsh Bush more than any other First Lady in modern history: they both married badly, they both brought up the rear, and they both sat and smoked.
image via: barnesandnoble.com
Comments